Introduction
This article will give you advice about Five things to consider before buying a ceiling fan.
If you are looking to buy a new fan, you may not give enough importance to blades. But you may want to keep in mind that
blades significantly impact performance and aesthetics. In other words, you have to consider a lot of factors when purchasing a
ceiling fan. This part of the fans is designed based on their usage. For example, some of them are designed for outdoor environments. Others consume less energy and should be installed indoors. Let's find out more.
Five things to consider before buying a ceiling fan
The number of blades
Some people think that the higher the number of blades, the better it is.
This is a common misconception.
According to experts, even a fan with two blades can be pretty efficient.
If there are more blades, it will add to the amount of drag.
It all boils down to be the strength of the motor that gives power to the fan.
Generally, three-blade fans an ideal choice for most homeowners.
Blade span
The span of the blade is another name for the fan width.
It measures from one tip to another.
Generally, the width is between 42 and 52 inches.
If you have a large room, we suggest that you go for longer blades to create soft and comfortable airflow.
On the other hand, shorter blades are designed for direct airflow in small rooms.
Keep in mind that the blades have no impact on the volume of air.
It all depends on the power of the motor.
Blade Types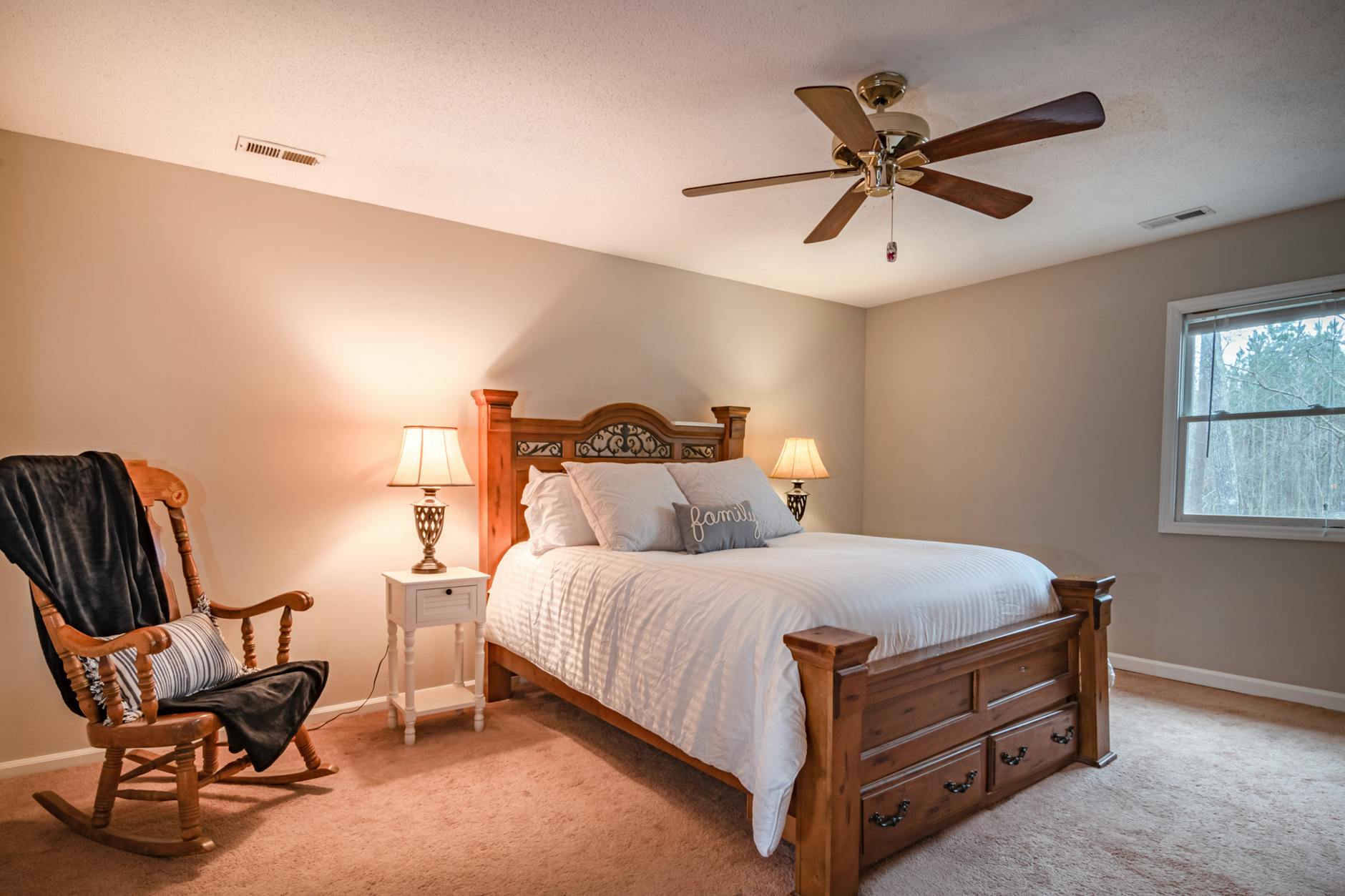 Ceiling fans design for domestic use come with blades that are made from medium-density fiberboard or particleboard.
On the other hand, if you want to purchase a high-end unit, know that it is made from natural hardwood of furniture grade.
Irrespective of the material they are made from, keep in mind that blades can be found in many styles, patterns, and colors.
If you are looking for a product for outdoor use, you may want to search for water-resistant fans.
Consider Your Ceiling
If you have a low ceiling, we suggest that you go for a flush mount for a unit.
The thing is that these units leave plenty of headroom and still provide excellent airflow.
Therefore, if your ceiling's height is 8 feet or higher, you may want to get this type of fan.
Energy-Efficiency
If you want to go green and save plenty of money on your monthly utility bills, you may want to go for ceiling fans that come with 4 to 5 blades.
Although the blades of these fans are quite important, it is just one part of the equation.
Keep in mind that the higher number of blades may not help you save a lot of money, especially if the product does not come with a high-efficiency motor.
That thing is that the motor's design and the speed and length of the blades may have a significant impact on how much energy efficiency you can achieve.
Conclusion
Long story short, five things to consider before buying a ceiling fan this introduces the importance of the right type of ceiling fan blades as far as performance is concerned.
Top 5 Best Ceiling Fan in 2021 – Best consumer product review (bestconsumergoods.com)
Amazon.in : The Crompton Aura Prime Anti-Dust model
Top 5 Best Tech Gadget in 2021 – Best consumer product review (bestconsumergoods.com)